Workplace advice with ACFA – Employment Contracts
9 Jan 2023
As the industry gears up for 2023, many are looking for new staff and will be looking at areas of their business such as employment contracts. So, we thought it was a great time to ask the experts at ACFA for their advice.
As business owners, it's vital to stay up-to-date with the requirements and obligations of being an employer and, while the ACFA Workplace Advice team responds to a variety of member enquiries, it's the area of employment contracts that often elicits the most questions.
Do you need a contract of employment?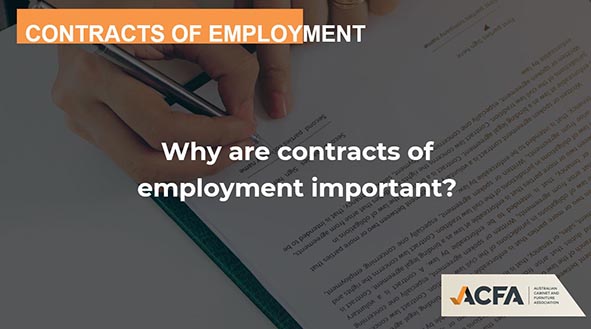 While there is currently no requirement or obligation for employers in Australia to have employment contracts with employees, the ACFA Workplace Advice team highly recommends that you do. The advantage of an employment contract is that it ensures both the employer and employee have a clear understanding of what is expected during the period of employment and sets out the parameters of the employment agreement.
Even allowing for the applications of various awards, an employment contract is not a "one-size-fits-all" solution and each contract should be customised to suit not only the employee but the employer and the type of employment.
ACFA has produced a questionnaire that members can complete to assist in customising the employment contract to suit the circumstances and the position. The ACFA Workplace Advice team is also available to offer advice and support prior to the creation of a contract of employment. This can benefit the member by going over the range of variables, based on what has been negotiated, as well as the specifics of the employee's position.
Not every position in your business will be covered by an award, and employment contracts can differ greatly across the various roles in your business. An employee in a senior or sales role may have additional benefits or renumeration bonuses that would not apply to a tradesperson role which would be covered by current award rates and allowances.
Contracts benefit employers when it comes to salary expectations and provide a clear outline to the employee regarding remuneration and what is (or isn't) included. A contract should also outline the applicable award and classification, as well as any allowances or penalties that may be incorporated into an over-award rate. It should also include any other requirements of the role.
An important step is ensuring that, if absorbing allowances into over-award rates, this should be stated clearly within the contract using wording such as: "over-award rate is inclusive of leave loading, tool allowance, etc…". Note that there is a requirement that the employee will need to be better off overall and cannot be disadvantaged under this agreement in these circumstances.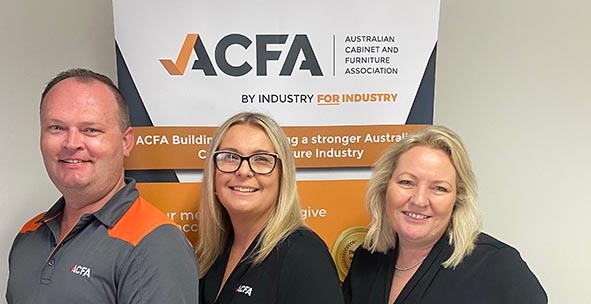 ACFA members benefit from access to workplace advice that include more than 500 resources that cover workplace policies, checklists, award information and more. All of which can be downloaded directly from the ACFA Member Portal or you can contact the Workplace Advice team directly for industry-specific knowledge and understanding.
With unlimited workplace advice, support for your business is only a phone call or email away. For more information and to find out about the current Pro-Rata Membership Offer visit https://www.acfa.net.au/
Source: The Kitchen and Bathroom Blog